J&K: Four security personnel among 10 killed in multiple ceasefire violations by Pakistan
Three Army personnel, a BSF sub-inspector and six civilians were killed in Pakistani action while four security forces personnel and eight civilians were injured.
A damaged residential house in Baramulla's Uri town. (Express photo)
Four security forces personnel were among 10 persons killed in multiple ceasefire violations by Pakistani troops along the Line of Control (LoC) from Gurez sector to Uri sector in Jammu and Kashmir on Friday, news agency PTI reported.
Three Army personnel, a BSF sub-inspector and six civilians were killed in Pakistani action while four security forces personnel and eight civilians were injured.
Srinagar-based defence spokesman Col Rajesh Kalia told PTI that Pakistan used mortars and other weapons and deliberately targeted civilian areas. He said the troops retaliated strongly causing causalities and substantial damage to Pakistan Army's infrastructure across the LoC. "Several ammunition dumps, FOL dumps and multiple terrorist launch pads have been damaged," the defence spokesman added.
"Pakistan initiated unprovoked ceasefire violation along the LoC spread across multiple sectors to include Dawar, Keran, Uri and Naugam. Three Indian Army soldiers have been killed in action and three soldiers injured," Col Kalia said.
The BSF sub-inspector lost his life in Haji Peer sector and a jawan was injured, PTI reported quoting officials. Moreover, two civilians were killed in the Kamalkote sector in Uri area of Baramulla district and a woman was killed in Balkote area in Haji Peer sector of Uri.
According to officials, aside from various places in Uri, ceasefire violations were reported from Izmarg in Gurez sector of Bandipora district and Keran sector of Kupwara district.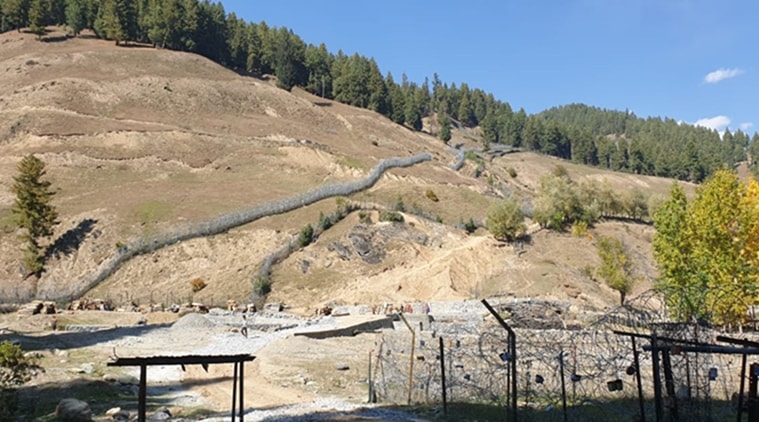 Almost all BSF units along the LoC are facing heaving firing since morning. (Express photo)
The Army also said that it foiled an infiltration bid, which was aided by the ceasefire violation, along the LoC in the Keran sector.
"Suspicious movement was observed by our troops at the forward posts along the LoC in Keran sector (in north Kashmir's Kupwara district) today. The suspected infiltration bid was foiled by alert troops," Col Kalia was quoted as saying by the news agency.
Those injured were taken to a hospital for treatment.
The defence spokesman also said that the Indian Army is well poised to defeat any attempts by Pakistan to infiltrate terrorists into Jammu Kashmir.
In New Delhi, BSF officials said SI Rakesh Doval (39) deployed at the force's artillery battery at the LoC in Baramulla was killed after he sustained a head injury in the firing around 13:15 hours. Constable Vasu Raja sustained splinter injuries on his arms and cheeks. He was deployed at the same forward defended location, they said, adding the constable is stable.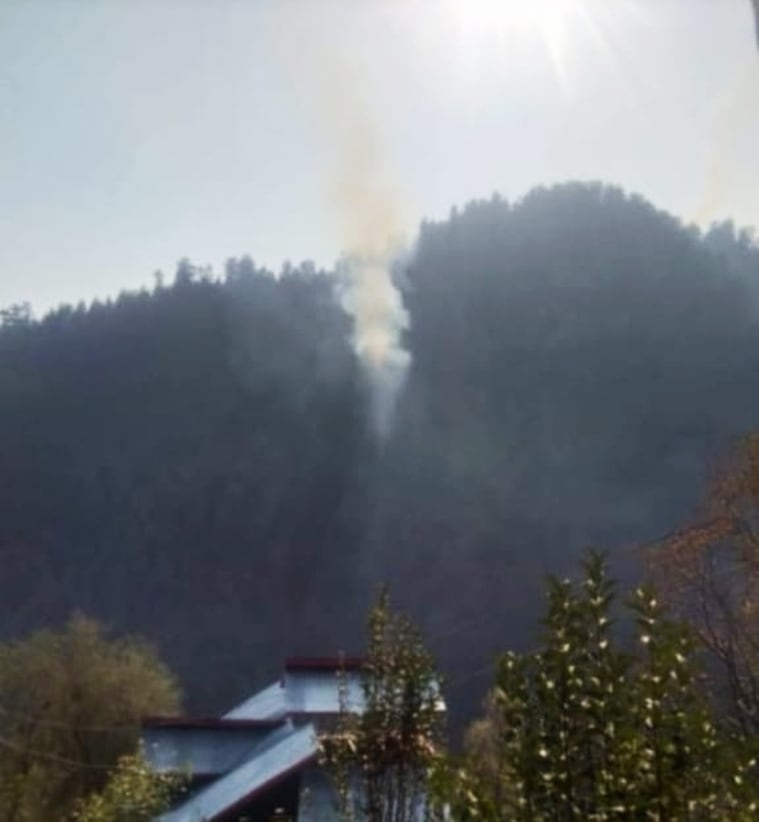 Smoke emanating from exploded shells in the forest area of Gurez town in North Kashmir's Bandipora district. (Express photo)
All BSF units along the LoC have been facing heaving firing since morning. According to a senior officer in the force, an effective retaliation by the troops, artillery regiment and support weapons has been mounted.
This was the second infiltration attempt within a week. The earlier unsuccessful bid in Machil sector during the intervening night of November 7- 8 was foiled in which three militants were killed.
NC, JKPC condole casualties
The National Conference on Friday condoled the casualties along the Line of Control (LoC) in Jammu and Kashmir and called for an immediate end to such skirmishes.
In a joint statement, the party said that whenever borders are lit up and tensions soar between the two countries, it is the people living along the LoC and the border who bear the brunt.
"It is really sad to witness innocent lives being devoured like this. We express solidarity with the bereaved families of civilians and soldiers and call upon both countries to immediately stop cross border shelling. The persistent lighting up of borders has made the lives of people no less than a hell," the statement said.
Meanwhile, Congress leader Rahul Gandhi also lauded the defence forces for their valour in protecting the country and defeating Pakistan's plans.
"Whenever Pakistan indulges in ceasefire violation, its fears and weaknesses become even more clear. Far from their families even during the festival, the soldiers of the Indian Army are protecting our country and demolishing Pakistan's disgusting plans," Gandhi said in a tweet in hindi.
"My salute to every soldier of the Army," he added.
Jammu and Kashmir Peoples Conference (JKPC) chairman Sajad Lone also condemned the shelling, saying it was "modern-day barbarism".