Ode to Guide: Celebrating Dev Anand's 97th birth anniversary with his greatest movie
A grey-shaded hero and adulterous heroine, the 1965 classic Guide was ahead of its time. Starring Waheeda Rehman and Dev Anand, it's an unusual tale of love, jealousy, and betrayal and ultimately, a journey of a tourist guide mistaken for a spiritual guide.
Is Guide Bollywood's favorite film? From actors like
Aamir Khan
and
Sonam Kapoor
to directors like Shekhar Kapur and Sanjay Leela Bhansali and even the hard to please
Naseeruddin Shah
who routinely lashes out at commercial Bollywood, they all count the 1965 Dev Anand-Waheeda Rehman classic as a personal touchstone. Once during a film promotion, Shah described Dev Anand — the 'evergreen star' known for his youthful optimism and never-say-die spirit — as a consummate entertainer whose movies espoused "joyousness which is fast vanishing from our lives." And yet, Guide is not exactly what anyone would call 'joyous.' It gives you a Dev Anand you had never seen before. The film (with Waheeda Rehman headlining one of her career's most stellar performance, not to forget the absolutely knockout dances that elevate Hindi screen to a classical stage) is a spiritual bridge between Anand's frothy romcoms (Taxi Driver, Tere Ghar Ke Saamne, Nau Do Gyarah, etc) and noirs/thrillers (Baazi, Kala Pani, CID, etc).
The conventional wisdom on Anand is that he's an undisputed goof, better at romancing leading ladies with an exuberant twinkle in his eye, roguish smile, ever-shifting gait, and a sing-song lilt than anything else. But Vijay Anand's Guide broke that mold. Who would have believed the fun-loving bon vivant would end up as suffering, brooding saint in a remote hamlet praying for the impossible? The well-waxed puff is long gone and a faint hint of stubble has started to show on that most recognizable of movie-idol faces. The guide is not a film with a direct social message though it does deal with adultery committed by a woman and a hero with grey shades. But like the pot that its danseuse protagonist (a much-married Rosie, played by Waheeda Rehman) smashes in the popular song "Aaj phir jeene ki" which many critics say signifies her newfound freedom on the way to "finding her own identity", Guide breaks many conventions as it goes on to chart the rise and fall of our charming hero Raju Guide (Anand) and a doomed romanticism that awaits him and Rosie's ambitious relationship. The guide is not just Dev Anand's career-best but also one of Hindi cinema's greatest films that examine the social context through its on-the-make titular character who goes from idealist to opportunist in no time. Redemption, for him, is only one rainfall away. On any other day, Guide would be a must-watch, but today, on Anand's 97th birth anniversary (he left us on 3 December 2011), a viewing assumes the mantle of the anode. Spend some time in the company of Guide and you won't regret it.
A Saint Is Born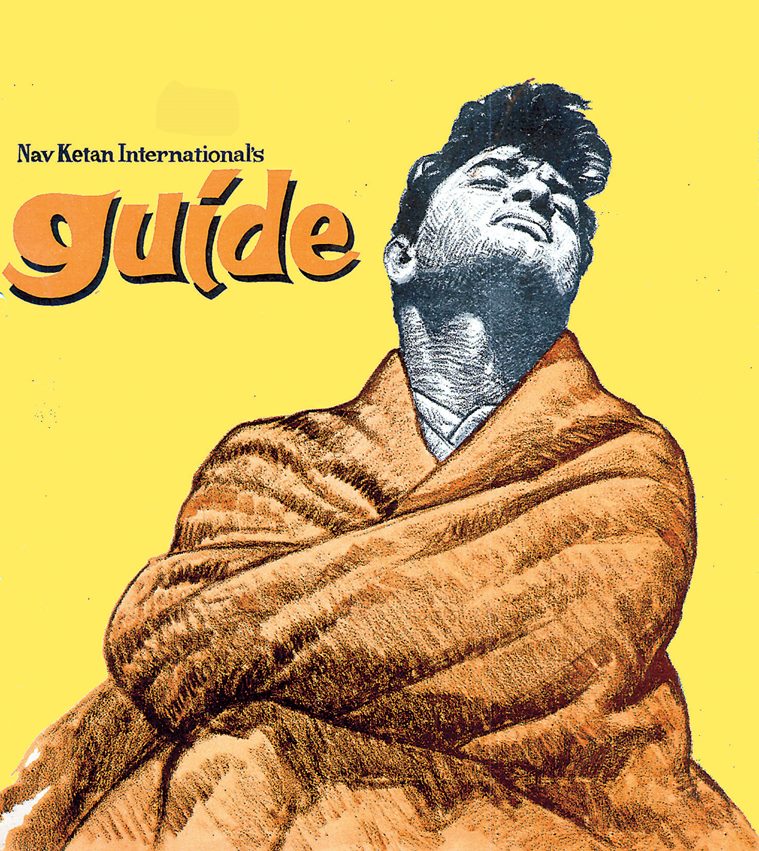 Dev Anand-starrer Guide is based on RK Narayan's novel The Guide. (Express archive photo)
Based on RK Narayan's novel The Guide, the film begins with Raju, a tourist guide, walking out of jail and into a new life. Charged with forgery and cheating, he wants to put his old life behind him. It's fitting that the credits roll with SD Burman's soulful "Wahan kaun hai tera," signalling that this is going to be an SD magic show through and through. The credits contain an impressive montage, as Raju embarks on a new journey. In one poignant shot, lovers canoodle on a park bench as the tramp Raju rests underneath. Shailendra's piercing lyrics remind the pilgrim of his plight. Cruelly ironic, because in another film, the lover on the bench would undoubtedly be Dev Anand serenading his heroine. The opening song also serves as a testament to director Vijay Anand's penchant for turning a song into a visual playground, complete with hidden symbolism and literary flair. We first meet Rosie in the photograph before we see her in flesh. Raju stumbles and a bunch of snaps falls from his cloth bag. And there she is — the woman who will make Raju rich and powerful but also quickly become responsible for his fall from grace. Rosie's archeologist husband Marco treats Rosie no less like a photograph. Or a "statue", as Rosie says in one scene, in a howl of anguish. After a heated argument, she leaves him and finds shelter with Raju, a Kabir-Iqbal-Zauq-quoting street-smart who makes his living as a tour guide. "My troubles would not have started but for Rosie," writes author RK Narayan in The Guide. Railway Raju, as the hustler is called in the novel, describes Rosie as "lovely and elegant", admitting that he started taking the "trouble of making myself presentable" after her arrival in the village. In Guide, however, Dev Anand is more than presentable at all times (except towards the climax) as was the star's won't. While Marco is obsessed with his discoveries, she beseeches Raju to accompany her to a famous local snake dancer. Here, Raju watches Rosie's serpent dance. Hypnotized, he becomes her first audience and there's no looking back thereafter. Raju helps reinvent Rosie as Nalini. But the film's real crux is the growing gulf and shifting moral compass between Raju and Rosie/Nalini (even a simple flower brings her joy while Raju descends into moral corruption). He gives Rosie wings to fly, with a sincere desire to craft a life that's nothing short of spectacle for her. How tragic, then, that his own life becomes a spectacle in the end. The fast-talking guide's transformation into a spiritual guide praying to bring relief to a rain-parched village is one of the movie's unexpected twists. Reborn as a saint, is this the last of Raju's frauds?